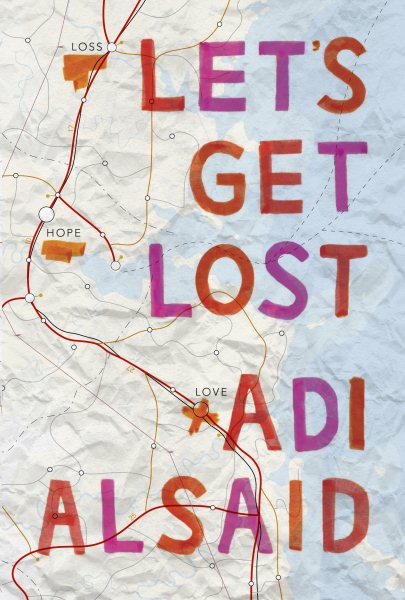 Content Warning: this is a Harlequin book, so a gratuitous love story is tacked on the end.
We don't find out what motivates Leila's journey until the last section, the one narrated by her. For the first four sections, Leila is just some weird nice girl driving through town in a red on red car.
My downloaded copy got auto-returned to NYPL, so I don't have my notes, so sorry I'll have to go on memory.
Leila is unhurriedly driving to Alaska to see the northern lights, apparently with unlimited gas money as well as unlimited time. You wonder if there's something magical about her until bit by bit you learn that she's as in need of help as the fellow teens she encounters and sets to right.
The first kid Leila meets is a collegebound boy named Hudson. Leila helps him find his true path, even if he's not as sure as she is about it.
Next she meets a girl whose path is even vaguer than hers. Leila helps her find her way home.
The third meet-up happens by literal accident, where Leila nearly crashes her car into a drunken promgoer (Jacob?) on the run from rejection. Leila helps him find his way to his love.
The last installment before Leila's own rescue is a girl who has found love, but before she was supposed to. Whatever her name is has a new boyfriend in Jeremiah, only a few months after the love of her young life, Sam, has died. It takes Leila and whateverhernameis several tries to get back over the Canadian border. Could that be a metaphor? Anyway, love wins.
Finally Leila makes it to Alaska, and we find out what her quest is all about. A sweet little girl helps Leila figure some stuff out, and Leila, revelations in hand begins her own journey home.
I'm oversimplifying the stories and making them sound shallow, when they're not. I was genuinely surprised by what happened with Hudson. While none of the other tales packed the same punch, I liked following generous, other-centered, somewhat magical Leila impacting lives around the country. I do wish they'd be less heteronormative and more explicitly ethnic (Jacob? was a Jewish immigrant from Israel with a Middle Eastern appearance if I remember correctly), and I don't know how Leila got the puke out of her car, but still a nice story. It could have ended before the romantic payoff and been better for it, but I guess when H is paying, a liplock has to happen at the end.
Just because it's interesting, Alsaid was raised in Mexico by Israeli parents and attended school at UNLV. He returned to Mexico City after college.
author gender:
recommendation: