I so needed a new-to-me paranormal fiction series! The protagonist is a coyote shapeshifter. So far there don't seem to be others of her kind, and having been raised by werewolves, most of her friends are of that persuasion. There is also the odd gremlin or vampire in her social circle--and someone really dangerous, an undercover cop.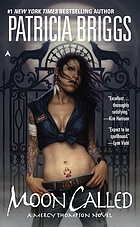 Mercedes "Mercy" Thompson reminds me of werewolf characters from Carrie Vaughn and Kelley Armstrong, but her world is more similar to Sookie Stackhouse's, in that one branch of supes has come out, and the rest are thinking about it. Maybe she'll also run into the Twilight gang, since she lives in the northwest.
My friend Doug wanted to know what "PoC" meant on my reading log. He suggested "Plenty of Cats" as a possibility, and I realized that I've been remiss in my book reviews, neglecting to point out whether or not the books I read feature cats and whether or not the portrayal is positive. Therefore my reviews this year will provide that valuable information.
Mercy has a cat named Medea, who unlike other cats isn't snooty toward weres and shifters. That makes me wonder if we won't find out more about Medea's true nature in a future installment. Medea doesn't have enough page time. A Google Books search reveals only eight appearances. She seems very sweet but doesn't get credit for doing anything particularly heroic. We'll see about that.
author gender:
book type:
medium:
recommendation: