I probably can't talk about this book without spoilering it, so proceed with caution, especially Danna, to whom I am going to mail it as soon as it's safe to go back to the post office. (i.e. after Santamas)
The first back of the book blurb likens the title character to a 21st century Lolita, but I think she's more similar to a blogging Go Ask Alice.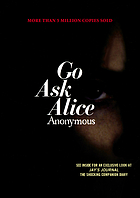 The title character, known as Katie Kampenfelt, is a recent high school graduate who blogs about her life—mostly sex, drinking, and babysitting. She is explicit about her many sexual encounters, some of them with much older men in committed relationships. Some passages at the end indicate that she is an unreliable narrator, so it's hard to know if she really does all of the things she says she does.
Her blog voice seems to be accurate to her age and time, and the story is engaging enough. I imagine it would have a really powerful draw on women in their teens and twenties (and men of all ages). Katie is sexually confident and aware of her own power, which is unusual in a teenager, I imagine, despite what mainstream movies written by men often depict. It is just this confidence coupled with having an abortion that I think causes the author to turn on Ms. Kampenfelt, revealing her disappearance and then probable death, like the protagonist in Go Ask Alice.
I'm irked because I was having a perfectly good read until the last few pages when the character gets punished for her sexuality. I just looked up the author online to see if I could determine if she was Christian or something. It turns out the author is male, which creeps me out—and the author of Autumn in New York! ("Romantic drama about an aging playboy who falls for a sweet, but terminally ill, young woman.") Also the whole "gyrl" thing. Is that like gyno? I guess that makes sense, but it's still annoying.
author gender:
medium: