Twilight meets The Historian. The protagonist is a witch, but vampires figure prominently. Diana Bishop is a renowned scholar on alchemy doing research at the Bodleian Library at Oxford. She pages an enchanted book and all hell breaks loose in the creature community (which includes daemons as well as witches and vampires). The research part is interesting, but the story devolves into the overprotective male vamp, gendered power struggle, and abstinence porn that drove some feminists crazy about the Twilight series.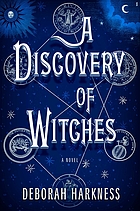 After the researchy bit is over, the novel becomes more romance focused than I like. The supernatural part is kind of annoying because it turns out that our narrator is a total superhero. Too much so. Another downside is that the ending in this trilogy part one is a total to-be-continued. That said, it is plenty compelling, especially the first half.
CATS: The lesbian witches have a cat named Tabitha, as they should.
author gender:
book type:
medium: