Sookie has long since lost her innocence, but in each book of the Southern Vampire Mysteries, she becomes more resigned and sometimes in harmony with the the motivations and mores of the supernatural company she keeps. Vamps are hot, but they're also a little...bloodthirsty, not to mention unfeeling. Sookie is neither of those things, but she's getting more accustomed to vamp justice.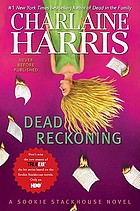 There's a whole interesting theme of Sookie having to respect other beings cultures, even when she doesn't agree with them. She doesn't get the fae, even though she's 1/8 fairy, but she doesn't judge their ways. I guess that's the spark her guardian is referring to when he talks about her being open to the supernatural.
It was a joy and a relief to read Dead Reckoning. I've got a lot of stress in my life right now, and vampire sturm und drang is oddly soothing. I've got a bunch of quality literary fiction, memoirs, and essays checked out of Barnard, but I think I might have to hit up NYPL today for more genre fiction.
CATS: Do werepanthers count?
author gender:
book type:
medium:
recommendation: