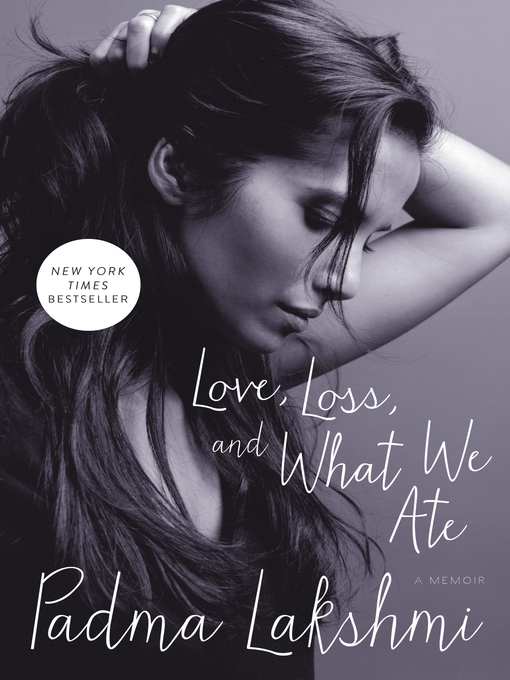 I probably read this because someone told me it was a dishy celebrity memoir, and it is! If, like me, you aren't up on your European models or Top Chef hosts, you might not know about Lakshmi. An India-born American who found success as a model and then as a talk show host in Italy, Lakshmi is perhaps also known for her powerful older paramours. She was married to Salman Rushdie and later dated business tycoon Teddy Forstmann.
I do love dishy celebrity memoirs, but maybe since Lakshmi wasn't a celebrity I knew about, the dishiness seemed a little too dishy to me. Too soon, maybe.
In addition to dishing, Lakshmi shares a few dishes--recipes for her favorite things, like chili cheese toast. I love that she cops to overeating and going up two dress sizes during each Top Chef season. It's the job!
She also talks about race and racism, sex and sexism a bit, like discovering in elementary school that she was brown.
I'd gradually learn that to so many Americans, my skin color signaled third-world slums as seen in Indiana Jones movies, malaria, hot curry and "stinky" food, and strange bright clothing--a caricature of India and Indians.
A New York Times review reinforced what it means to be a woman in the public eye.
Frank Bruni of The New York Times had spent several column inches in the paper dissing my sartorial choices when reviewing my first season on Top Chef. ... It frustrated me that, as a woman, I had much more attention focused on how I looked than, say, Tom, our head judge did.
Then Lakshmi brings her daughter to India, and Krishna learns about cultural differences, too. "The idea of personal space in India does not extend to children. Total strangers would come up to her and pinch her cheeks or squeeze her nose. ... "Stop touching me!" Krishna wailed back.
I so relate to that. I was a kid who was not remotely brought up to respect authority, and was an autonomous little brat.
book type: