Milo told me to read this, so I did. It's about a prom crazed high school senior who changes from Jill to Jack four days of the month, as she has since the onset of menstruation.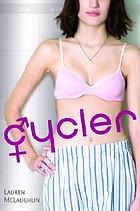 Jill is in love with Tommy, who turns out to have a sexual duality of his own, while Jack pines for Jill's best friend, so there's some complexity in the house.
Unfortunately I was put of by the book's self-conscious teen lingo and didn't find myself overly taken with either character's narrative. The whole thing read like a set up for the book's sequel (Re)cycler.
author gender:
medium: