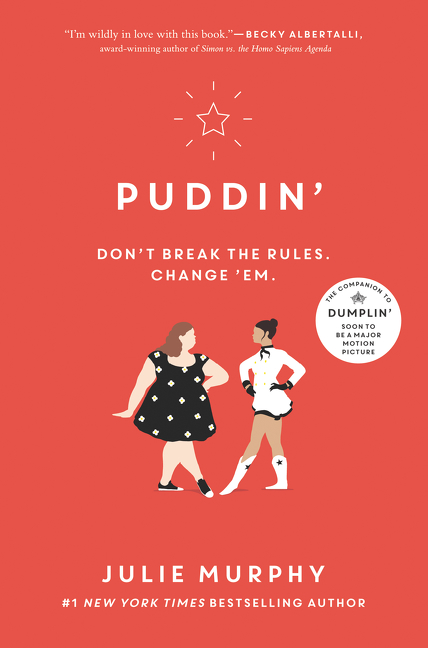 Texas teens Millie Michalchuk and Callie Reyes are unlikely friends. Millie is an incredibly sweet fat girl who loves crafting and dreams of being a news anchor, and Callie is a dance team co-captain mean girl with a rich boyfriend. One day Callie gets caught doing a bad thing and is brought low...into Millie's universe. By it's description, Puddin' could seem a little bland, but it's got a lot of heart. I mean, you just really want Millie to get what she wants and Callie to get over herself.
Callie is Latinx, same as her dad and older sister, but different from her mom, stepdad, and half-sister. She shares what it's like to be perceived as a cleaning lady, or illegal, or spicy, and Millie can relate. 
I'm sorry, Callie. I get what it means for people to make decisions about the kind of person you are based on how you look, but I'm still sorry.
That seems so classy and right to me--to equate what it's like to be fat with the racism Callie endures, but to still separate the two experiences. Callie starts to understand her own role in getting kicked off the dance team, even though she still wants to blame others. 
Logically, I know that I trashed the gym and that's my fault.
There are some cute southernisms, too, like this tidbit from a football player, 
Can we just keep taking it slow?

He tilts his chin down toward me, "As slow as a turtle race if you want."
Murphy is a former library workers, and manages to get some library advocacy in. 
The budget meeting is long and boring. Who knew it cost that much to fund a cafeteria? And why is everyone always trying to take money away from libraries? Aren't books sort of the reason we're even in school at all?
Puddin' is a same-universe story as Dumplin', which is soon-to-be a movie with Jennifer Aniston playing a southern pageant mom. I immediately attempted to download it from each of NYC's public library systems, but it's checked out everywhere!
recommendation: