This is the kind of thing I eat up--teenage dancer dealing with race issues. Vicki is enrolled in a competitive program at the School of American Ballet. The 14-year-old hestitantly leaves her divorcing parents and younger sister in New Jersey and spends the summer with her aunt (mother's best friend, not sister) on the Upper West Side of Manhattan. Well, she's psyched to do it; she loves to dance, but it is daunting.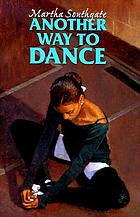 Vicki turns out to be one of two African-Americans in the program and has some ugly experiences both from outside and within. She also hooks up with an awfully nice young man, who introduces her to some of Harlem's attractions.
I went into this book with unreasonable expectations, with my love of dance heroines, stories about people dealing with the personal and political aspects of otherness, and for the last novel I read by Southgate. Given all that, predictably I was a little disappointed. It was Southgate's first novel, written primarily while she was in grad school, and feels a little thin to me. I'd love to see a sequel about Vicki as a high school senior, say, since I prefer books for older teens. It may well be that I didn't love AWtD as much as I wanted to because it was written for tween readers, not for wannabe 17-year-olds like me.
Cats: no
author gender:
medium:
author demographic:
book type: